Electricity for Antam's ferronickel smelter (ANTM) project will be available early 2021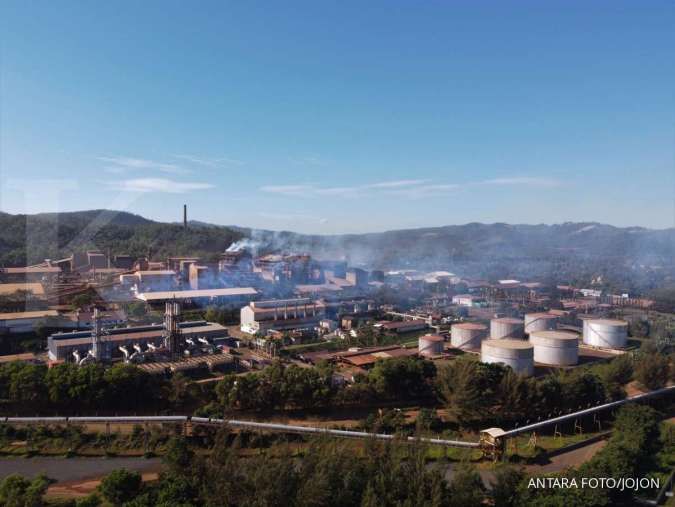 ILLUSTRATION.Antam's nickel processing factory in Pomalaa, Kolaka, Southeast Sulawesi, Monday (24/8).
JAKARTA.One of the projects belonging to Mining Industry Indonesia (MIND ID) that is being hampered is the ferronickel smelter in East Halmahera (Haltim).This project is managed directly by MIND ID's subsidiary, PT Aneka Tambang Tbk (ANTM).
This project actually started in 2017 and took 30 months of construction work.As of July 2019, the progress of the project had reached 97%.However, after that the project experienced delays due to delays in electricity supply.
Aneka Tambang President Director Dana Amin said that currently his party is still working with PT Perusahaan Listrik Negara (PLN) to ensure the availability of electricity at the Haltim ferronickel smelter.
"The hope is that a power purchase contract will be agreed upon, while the plant will take one year to work," he said at the DPR RI hearing (RDP), Tuesday (29/9).
Based on MIND ID's exposure material, the target of providing electricity at the ferronickel smelter will be achieved in February 2021.In that same year, the smelter project was completed and operated commercially.
Apart from the electricity problem, currently ANTM is still completing the EPC construction in addition to installing bricks or bricks in the project.
The ferronickel smelter project costs an investment of IDR 4.03 trillion, of which IDR 3.36 trillion is the government's portion, while IDR 0.68 trillion is the result of a public rights issue conducted by ANTM.
When it is operational, the ferronickel smelter will have a capacity of 13,500 tonnes of Ni, so it is believed that it will play an important role in the government's downstream mineral mining program.
"The prospect of a ferronickel smelter in East Halmahera is very large, especially since there is also a Weda Bay industrial area.In the future, the smelter will also play a role in economic development in North Maluku, said Dana Amin.
Source:https://industri.kontan.co.id/news/listrik-untuk-proyek-smelter-feronikel-antam-antm-tersedia-awal-2021/?utm_source=line&utm_medium=text