PT. NHM Supports the Quality Improvement Program for Honorary Teachers in North Halmahera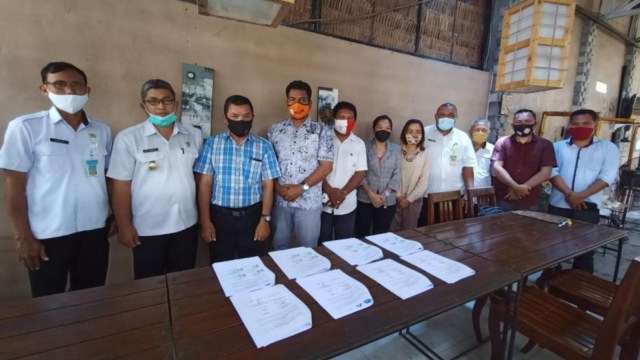 PT Nusa Halmahera Minerals (PT NHM) under the ownership of PT Indotan Halmahera Bangkit (Indotan) shows its concern for the world of education in North Halmahera Regency, North Maluku, especially in the area around the mine.
This concern is manifested by supporting programs to improve the quality of honorary teachers in a number of schools in five sub-districts surrounding the company's mine.
The support from PT NHM is outlined in the form of a Memorandum of Understanding between PT NHM and the Education and Culture Office of North Halmahera Regency and the Education Quality Assurance Agency (LPMP) of North Maluku Province. The MoU was signed in Tobelo on September 30, 2020 and in Ternate on October 3, 2020.
PT NHM Corporate Communications Manager Ramdani Sirait said the signing of the MoU was carried out by PT NHM's Social Performance Manager, Hansed P. Lasa, Kadikbud Halut Hertje Manuel, Head of UPTD Dikbud Halut Rusli S. Jafar, and Head of the North Maluku Education Quality Assurance Agency (LPMP) La Ode Safihu.
"Hopefully this program can improve the quality of teachers which can have a positive impact on the teaching and learning system in schools," said Ramdani.
Meanwhile, PT NHM Social Performance Manager Hansed P. Lasa explained that the cooperation agreement was carried out in the framework of education and training to strengthen learning competencies for core teachers, supervisors and honorary teachers at the elementary, junior high school, high school / secondary school levels. Vocational studies in the five sub-districts surrounding the PT NHM mine for 2020.
"The Training for Strengthening Learning Competence (PKP) is targeted at 580 training participants consisting of 60 Civil Servant teachers and supervisors in the North Halmahera District Education Office, 240 honorary school teachers at the elementary level and 240 junior high schools. 130 people and 150 SMA / SMK level who are currently still actively teaching in schools that are scattered in the sub-districts around the mine, namely Kao Teluk, Malifut, Kao, Kao Utara and Kao Barat, "said Hansed.
Hansed hopes that the training program carried out can develop and strengthen the professional competence of honorary teachers in the form of increasing curriculum understanding and learning outcomes based on minimum service standards in the context of ensuring the quality of national education.
"Another goal to be achieved is to improve the pedagogic, academic, professional, and social competence of honorary subject teachers, to create a vehicle for self-development for honorary teachers to be more professional, innovative, and competent in carrying out tasks, solving various learning problems faced honorary teachers through peer teaching, collaboration, and best practice, improve the academic qualifications of subject teachers towards the certification process and help teachers prepare themselves earlier in managing the learning process, both administrative and qualitative in nature, "concluded Hansed.