Sales of United Tractors' heavy equipment increased in September, mostly to the mining sector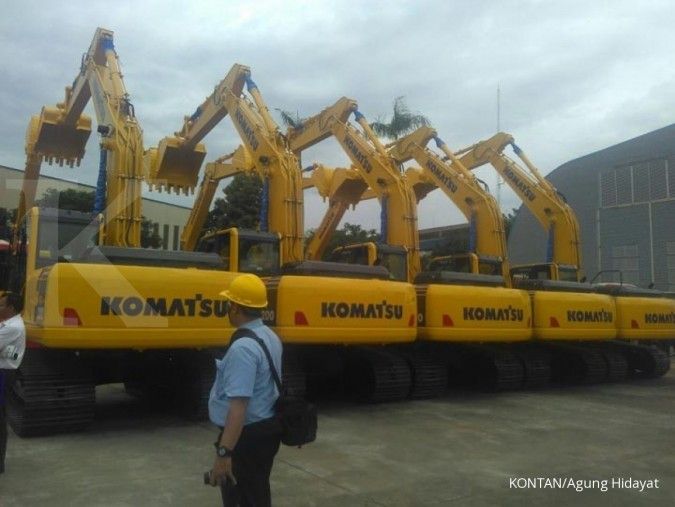 Sales of heavy equipment at PT United Tractors Tbk ( UNTR ) have begun to show recovery. In the September 2020 period, the business entity PT Astra International Tbk ( ASII ) sold 148 units of Komatsu heavy equipment. This realization was up 41% from sales data as of August 2020 which amounted to 105 units. Of the heavy equipment sales this September, the majority were sold to the mining sector.
Citing the UNTR monthly report on its official website, Monday (26/10), sales of heavy equipment in the September 2020 period were the highest since April 2020 and were the highest sales in the third quarter of 2020.
Of the 148 units of Komatsu heavy equipment sold, 67 units or 45% were sales to the mining sector, and 37 units or 25% were sales to the construction sector.
Meanwhile, 24 units (16%) were sold to the agricultural sector (agro) and 21 units or 14% were sales to the forestry sector. If accumulated, the total Komatsu heavy equipment sold by UNTR reaches 1,191 units. On the other hand, UNTR is targeting to be able to sell 1,300 – 1,400 units of heavy equipment by the end of 2020.
That means UNTR has met 85% -91% of the sales target of the installed heavy equipment. The market share ( market share ) of Komatsu until September 2020 reached 31% of the total demand for national heavy equipment.
At least, from June to September 2020, sales of UNTR's heavy equipment began to move. In June 2020, UNTR sold 76 heavy equipment, an increase of 26%, wherein May 2020 sales of Komatsu heavy equipment only reached 60 units, which is the lowest sales throughout 2020.
The upward trend then continued in the period of July (85 units) and August (105 units). The record for the highest sales of heavy equipment this year is still held by sales for the January 2020 period which reached 251 units.
Source:https://industri.kontan.co.id/news/penjualan-alat-berat-united-tractors-naik-di-september-mayoritas-ke-sektor-tambang/?utm_source=line&utm_medium=text