Australias mining and energy exports hit a record $310 billion
Australias mining and energy exports are expected to have hit a record-high of $310 billion this financial year, underpinning the economy amid a turbulent period that included a worsening trade spat with China and a global pandemic.
Federal government trade data to be released on Monday reveals the strong rise in export earnings. These incredible results underline the importance of Australias resources sector to the national economy and international markets throughout the COVID-19 downturn, said Federal Resources Minister Keith Pitt. The outlook for Australias energy and resource commodity exports continues to improve.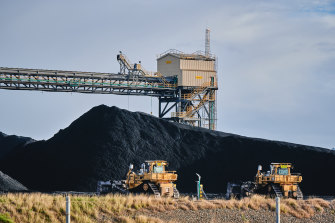 Forecasts are for energy and resource export earnings to rise a further 7.7 per cent to $334 billion next financial year, boosted by infrastructure spending globally.
The surge in demand for iron ore, Australias biggest export, pushed the price of the commodity to a record $US230 a tonne, as aggressive, infrastructure-focused stimulus programs in China fuel booming demand for the key steel-making raw material. Meanwhile, global seaborne supply has been constrained due to ongoing disruptions affecting output volumes at Vales iron ore mines in Brazil.
In the past year, earnings from iron ore have risen nearly 50 per cent to an expected all-time high of $149 billion, with the stunning rally delivering strong profits to mining giants BHP, Rio Tinto and Fortescue.
However, some analysts believe Chinese efforts to curb steel output are likely to take hold in coming months and could push down the price of iron ore, at the same time as supply from Brazil begins to lift.We believe iron ore is approaching an inflection point, UBS analyst Myles Alsop said.
The federal government forecasts prices to average around $US150 a tonne in 2021, before falling to below $US100 a tonne by the end of 2022.
While iron ore demand has boomed, the picture is more mixed for the nations second-largest export, coal. Australias coal miners lost a combined $20 billion in the value of their exports over the past year as the coronavirus pandemic weighed on energy demand and unofficial Chinese bans on Australian cargoes reverberated across the industry.
Exports of metallurgical coal the coal used in steel-making lost 38 per cent, falling from $35 billion to $22 billion, according to the federal Industry Department report. Thermal coal, used in power generation, tumbled nearly 20 per cent from $21 billion to $17 billion.
The Industry Departments report warned that China informal import restrictions have caused a big price differential for Australian metallurgical coal compared to coal from other sources such as the United States and Canada. This differential is likely to persist … reducing the benefit of stronger market conditions for Australian exporters, it said.
Amid a souring of diplomatic tensions between Canberra and Beijing last year, an unofficial ban on Australian coal shipments kept dozens of vessels stranded off the Chinese coast for months.
Australian miners had hoped restrictions may have eased from January 1 when China reset its unofficial import quotas but Wood Mackenzies Asia-Pacific head of coal Rory Simington said the diplomatic feud had been worsening. It now appears the ban could remain in place for much longer than anticipated, he said.
Coals diminished demand and benchmark prices caused heavy half-year losses for Australian miners including Whitehaven Coal and New Hope Corporation, and comes at a turbulent time for the industry amid intensifying climate pressure.
Across Australia and around the world, a growing number of banks, insurers and institutional investors have either begun divesting coal assets or pledged not to make new investments in coal, citing concerns about the fossil fuels contribution to global warming.
In more recent months, however, coals near-term fortunes appear to have turned a corner amid soaring global demand. Thermal coal prices are pushing higher ahead of a hot summer in the Northern Hemisphere and forecasts of increased demand from air-conditioners, while prices for metallurgical coal have been benefiting from strong steel-making and industrial activity rebounding following the COVID-19 downturn.
Credit Suisse analysts say mine site disruptions in Indonesia, South Africa and Colombia have led to a supply squeeze while an earlier-than-expected Asian heatwave is driving demand and prompting power plants to stockpile ahead of summer.
Top-quality NSW coal, which fell below $US50 a tonne last year, has climbed back above $US120 a tonne, well above the investment banks forecasts.
Wood Mackenzies Simington said the shortage of thermal coal for power generation in China was most severe. Chinese importers were having difficulty replacing Australian coal and were being forced to pay significantly higher prices than buyers in other countries able to take Australian coal. But Chinese buying was supporting higher prices for all seaborne coal, including from Australia, he said.
Source:https://www.smh.com.au/business/companies/australia-s-mining-and-energy-exports-hit-a-record-310-billion-20210625-p5849z.html