Bukit Asam (PTBA) strengthens coal sales in the domestic and export markets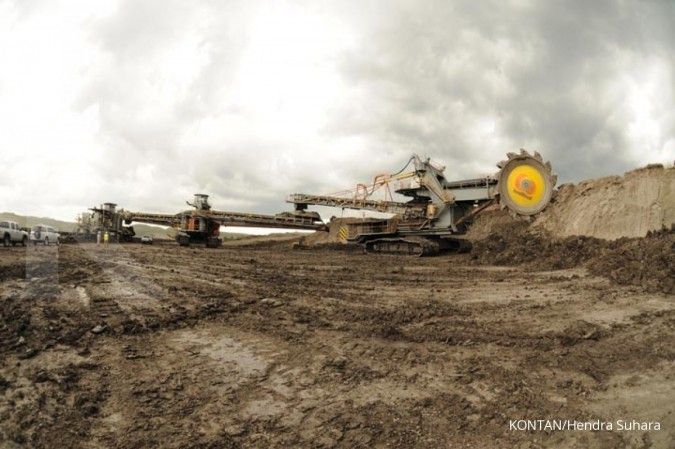 PT Bukit Asam Tbk (PTBA) seeks to take advantage of the momentum of rising global coal prices.In addition to increasing its production capabilities, this state-owned company will strengthen coal sales in the domestic and export markets.
Based on Bloomberg data, the ICE Newcastle coal price for the July 2021 contract was at the level of US $ 99.4 per ton on Friday (14/5) trading.In fact, the price of coal once reached the level of US $ 102.55 per ton on Thursday (13/5).
PTBA Corporate Secretary Apollonius Andwie C. said, the increase in coal prices coupled with the addition of the national coal production quota by the government basically became an opportunity for PTBA to increase its production.
Just so you know, the Ministry of Energy and Mineral Resources is raising the national coal production target in 2021 from 550 million tons to 625 million tons.PTBA had targeted coal production of 29.5 million tons this year, then increased it to 30 million tons.
PTBA is still open to opportunities to increase its coal production again in the remainder of this year."We are currently exploring with the Ministry of Energy and Mineral Resources to get bigger opportunities," said Pollo, Monday (17/5).
For the record, in the first three months of 2021, PTBA was able to produce 4.5 million tons of coal with sales of 5.9 million tons.
PTBA management claims that its sales are starting to show positive signals amidst the national economic recovery.The domestic market is still the main contributor to PTBA's coal sales.PTBA's coal sales in the domestic market are also strengthened by the presence ofanaluminasmelterin Bintan, so the company supplies coal there.
As of the first quarter of 2021, PTBA's revenue from domestic coal sales reached Rp 2.59 trillion, aka the highest compared to the company's coal sales to other countries.
So far, the electricity sector has contributed greatly to PTBA's domestic coal sales.This is evident from PTBA's coal sales to PT Perusahaan Listrik Negara (Persero) which reached Rp 1.05 trillion and PT Indonesia Power amounted to Rp 880.25 billion in the first quarter of 2021.These two companies contribute more than 10% of PTBA's total revenue.
Pollo also said that PTBA's export sales were also quite stable.This is considering that the demand for coal exports to various countries isfully booked."One of the markets for our expansion is the Philippines," said Pollo.
Apart from the Philippines, PTBA also exports coal to China, India, Taiwan, Japan, Malaysia, Hong Kong, Vietnam, and so on.
Not only producing and selling coal, PTBA also focuses on developing coal gasification projects into Dimethyl Ether (DME) together with PT Pertamina (Persero) and Air Products & Chemicals, Inc (APCI).On Tuesday, 11 May 2021, PTBA, Pertamina and APCI signed the Amendment to the DME Development Cooperation Agreement which took place in Jakarta and Los Angelos, United States.
Pollo said that his party was following up on the signed agreement to be finalized.After that, only then did PTBA undergo the pre-construction stage for the project which took place in Tanjung Enim, South Sumatra.
The DME project itself will be carried out for 20 years.Foreign investment brought in from APCI in this project reached US $ 2.1 billion or the equivalent of Rp. 30 trillion.
PTBA will later supply 6 million tonnes of coal for the DME project.In the future, this project can produce 1.4 million DME per year and reduce Indonesia's LPG imports by 1 million tonnes per year.
Source:https://industri.kontan.co.id/news/bukit-asam-ptba-perkuat-penjualan-batubara-di-pasar-domestik-dan-ekspor?page=2