Check out the realization of Aneka Tambang (ANTM) and Vale Indonesia (INCO) nickel production in 2020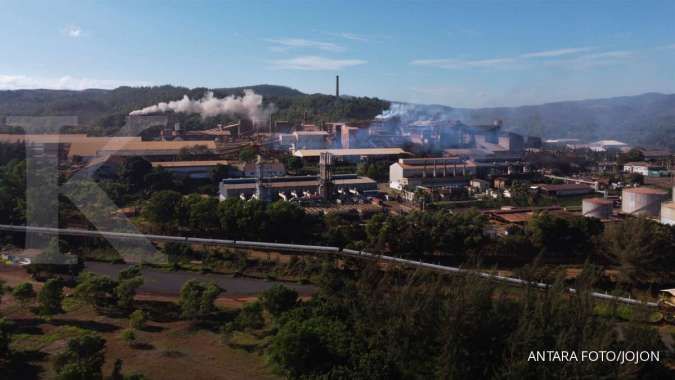 Two listed nickel producers in the country, PT Aneka Tambang Tbk (ANTM) and PT Vale Indonesia Tbk (INCO) have reported the realization of nickel production throughout 2020.
INCO produced 72,237 metric tons of nickel in matte throughout 2020. This realization was up 2% compared to 2019's achievement of 71,025 tons.
However, this achievement is slightly below the new production plan installed by INCO last year, which is in the range of 73,000 tonnes.
Vale Indonesia Chief Financial Officer Bernardus Irmanto said this production figure is indeed slightly lower than the previously announced figure.This is due to planned maintenance which took longer than planned.
However, this figure is still in the range of production figures expected by Vale Indonesia."In the midst of the challenges of operating in pandemic conditions, we consider this figure to be quite good," explained Bernardus when contacted by Kontan.co.id, Thursday (4/2).
INCO's production of nickel in matte specifically in the fourth quarter of 2020 was 16,445 metric tons.This figure is 16% lower than the realization of production in the third quarter of 2020 of 19,477 metric tons.This result is also 20% lower than production in the fourth quarter of 2019 of 20,494 metric tons.
The decline in production in the fourth quarter of last year was more due to planned maintenance activities.
Meanwhile, ANTM was noted to have reported the realization of nickel sales and production last year.This state-owned company sold 26,163 tons of nickel in ferronickel (TNi) throughout 2020, a slight decrease of 0.18% from the previous year which amounted to 26,212 TNi.
However, ANTM recorded an (unaudited) volume of ferronickel production of 25,970 TNi which is the highest production achievement in the Company's history.This realization was an increase of 0.9% from the previous year's ferronickel production achievement of 25,713 TNi.
During 2020, the production volume of nickel ore (unaudited) used as ferronickel raw material for ANTM and domestic customers was recorded at 4.76 million wmt, a decrease of 45.2% from the previous year which was 8.69 million wmt.
On the other hand, sales of nickel ore throughout 2020 amounted to 3.29 million wmt, down 56.39% from the realization in 2019 which reached 7.55 million wmt.
SVP Corporate Secretary Aneka Tambang Kunto Hendrapawoko said, ANTM will no longer sell nickel ore to the export market throughout 2020. This is in line with the Government's policy to suspend the export license for nickel ore in early 2020.
"Therefore, ANTM's nickel ore production rate adjusts to the level of sales demand and the absorption rate of nickel ore for the needs of ANTM's ferronickel factory," explained Kunto to Kontan.co.id, Tuesday (2/2).
Source:https://investasi.kontan.co.id/news/simak-realisasi-produksi-nikel-aneka-tambang-antm-dan-vale-indonesia-inco-di-2020