Hexindo Adiperkasa (HEXA) strategy targets US$ 359.42 million in revenue this year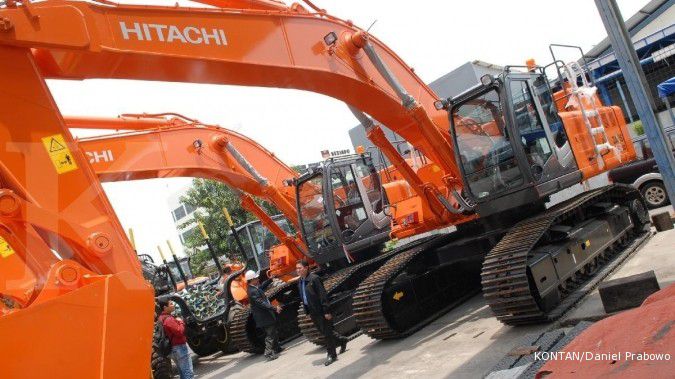 PT Hexindo Adiperkasa Tbk ( HEXA) continues to improve its performance throughout 2021 as the company's heavy equipment sales increase potential.
Based on the material presented by the public, the Hitachi brand heavy equipment distributor is aiming for a total revenue of US$ 359.42 million during the 2021 fiscal year. The company's net profit in the same period is set at US$ 31.75 million.
Dwi Sasono, Director of Hexindo Adiperkasa, said that the projected revenue and net profit are based on sales of HEXA heavy equipment, which has the potential to increase this year.HEXA also targets heavy equipment sales this year to exceed 1,500 units.
Just for comparison, last year HEXA realized 1,266 units of heavy equipment sales.Meanwhile, in the second quarter of 2021 which took place last April-June, HEXA sold 428 units of heavy equipment.
In detail, excavator sales for the agro sector were recorded at 137 units (38%), forestry 90 units (25%), mining 88 units (24%), construction 48 units (13%), others 1 unit (1%), and 8 units of wheel loaders, 53 units of mini excavators, and 3 units of articulated dump trucks.
"In 2021, the dominant sectors are agro and forestry where both can compete for positions.Then the third place is mining, especially nickel.Then followed by construction," he said in a virtual public expose, Friday (17/9).
Sales of HEXA heavy equipment in the mining sector are predicted to increase.This is because the prices of a number of mining commodities are indeed on an increasing trend this year, one of which is nickel.
The demand for heavy equipment from the nickel mining industry is seen by HEXA as quite high at this time.HEXA itself already has several existing contracts for the sale of heavy equipment with customers who are familiar with the nickel mining sector.
However, HEXA is also open to finding new customers in the nickel mining sector.
We have a mapping with loyal customers who have contracts with Hexindo.We also adjust demand to the factory's production capacity," said Dewi.
Source: https://industri.kontan.co.id/news/strategi-hexindo-adiperkasa-hexa-bidik-pendapatan-us-35942-juta-tahun-ini