Merdeka Copper (MDKA) shares are still recommended despite production challenges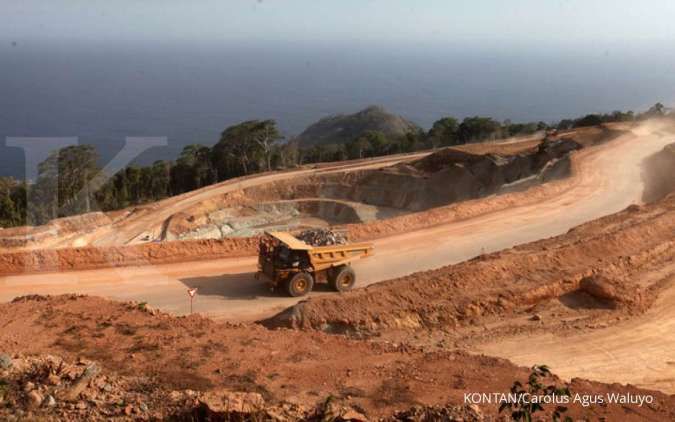 PT Merdeka Copper Gold Tbk (MDKA)gold productionhad declined and caused MDKA's performance to decline in the first quarter of 2021. However, management targets production this year to improve.Analysts also believe that MDKA's performance until the end of this year will turn positive on the back of rising gold and copper prices.
MDKA's performance has recently eroded due to declining production.Throughout the first quarter of 2021, Merdeka Copper's gold production decreased by 69%year on year(yoy) to 16,585 ounces.Production decreased due to aheap leachincidentat the Tujuh Bukit gold mine.As a result, MDKA's revenue in the first quarter of 2021 fell 55.15% to US$ 46.54 million.Meanwhile, the net loss reached US$ 4.98 million.
Dessy Lapagu, an analyst at Samuel Sekuritas Indonesia, said that this year's production, which is potentially lower than last year's, is a challenge for MDKA to boost performance."Our production improvement process is more moderate as the effects of theheap leachincidentstill affect productivity throughout the first half of 2021," Dessy said, Monday (7/6).MDKA management also hopes that the normalization of gold production from the Tujuh Bukit mine will only occur in the third quarter of 2021.
When viewed on a quarterly basis, MDKA's gold production recorded an increase of 210% compared to production in the fourth quarter of 2020 which was 5,244 ounces.Meanwhile, Dessy said MDKA production in the first quarter only met 15.1% of Dessy's projection for this year's total gold production of 110,000 ounces.
In the midst of waiting for the realization of the increase in production, Dessy projects that MDKA's performance has the potential to improve, supported by stable gold prices."The price of gold is currently sloping compared to last year, we estimate that the price of gold will continue to be a commodity that is preferred by investors as an investment destination," Dessy said.For 2021-2022, Dessy projects the gold price to be in the range of US$ 1,800 per troy ounce-US$ 2,000 per troy ounce.
MDKA announced that it will continue itspre-feasibility studyfor the potential Tujuh Bukit Copper Project, which contains 87 million tons of copper and 28 million ounces of gold resources.The increase in copper production also has the potential to increase from the Wetar Copper Mine.In the first quarter of 2021, copper production reached 2,489 tons, an increase of 39% yoy.Merdeka Copper targets copper production this year to reach 14,000 tons-17,000 tons.
Along with increasing copper production, Dessy projects that MDKA's performance will also be supported by copper prices which have the potential to strengthen in line with high investor interest in this commodity.Dessy projects that the price of copper in 2021-2022 will rise to a level of US$ 9,500 per metric ton-US$ 10,200 per metric ton.
Christopher Andre Benas, an analyst at RHB Sekuritas in his research, noted that the average selling price of MDKA copper in the first quarter of 2021 rose 36% yoy.Christopher projects that the upward trend in prices will continue until the second quarter of 2021.
"China's long-term supply of copper is worrying while demand continues to rise," Christopher said.As a result, Christopher is optimistic that the MDKA copper business segment will improve its performance supported by increased production.
Although MDKA recorded a loss in the first three months of this year, Christopher is optimistic that in the next quarter MDKA's performance will improve, supported by the increase in production and the average selling price.Christopher recommends buying MDKA shares at a target price of Rp 2,750 per share.Compact, Dessy also recommends buying at a target price of Rp 3,000 per share.
Source:https://investasi.kontan.co.id/news/saham-merdeka-copper-mdka-tetap-direkomendasikan-meski-ada-tantangan-produksi