Prospects of Trinitan Metals (PURE) could be raised in the development of electric vehicle batteries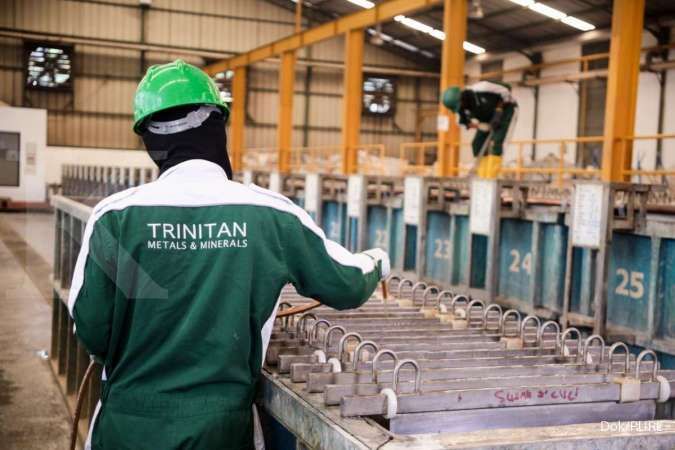 PT Trinitan Metals and Minerals (PURE) sees great business potential from the development of the electric car ecosystem in Indonesia.Currently PURE is developing Lithium battery development technology.
President Director of Trinitan Metals and Minerals Widodo Sucipto said, in August 2020, PURE established a subsidiary named PT Hydrotech Metal Indonesia (HMI) which functions as a center for research and technology development, especially metal and mineral processing.
HMI was responsible for developing the Step Temperature Acid Leach (STAL) technology, which is a patented low grade laterite ore processing technology for extracting nickel from various laterite ores.This technology was developed specifically to suit the conditions of nickel mining in Indonesia with competitive capital requirements and operational costs.
Not only that, HMI is also developing nickel downstream technology and optimizing the value of the by-products contained in the laterite ore.
"In the future, HMI will act as a driving force for development in the nickel-based battery value chain," Widodo said in a virtual public expose, Thursday (22/7).
Widodo said that HMI's contribution to the supply of electric vehicle batteries will be very large because it will provide raw materials such as nickel, cobalt, and others needed in the manufacture of lithium-ion batteries.
"The company's target for HMI in the future is to be able to help PURE's performance by getting development investors who will use STAL technology. This is one of our efforts to improve financially this year," he said.
Just so you know, PURE's performance in 2020 has contracted due to the impact of the Covid-19 pandemic.PURE's revenue fell by 70% yoy from the previous Rp 452.12 billion to Rp 136.31 billion in 2020. Along with the decline in sales, PURE recorded a net loss of Rp 98.74 billion.
Widodo said last year the PURE business was affected by the Covid-19 pandemic due to restrictions on obtaining raw materials and sales."Lockdown and Large-Scale Social Restrictions (PSBB) are very detrimental to the company," he said.
In addition, the pandemic also has an impact on raw material prices and the exchange rate.The working capital factor was also eroded due to losses so that his party looked for other alternative facilities in obtaining additional working capital.
In the first quarter of 2021, PURE's sales have also not improved.At the end of March 2021, PURE recorded sales of Rp. 7.83 billion, the acquisition was much smaller than sales in March 2020 which was valued at Rp. 86.4 billion.PURE also recorded a net loss of Rp 6.34 billion.
Source:https://industri.kontan.co.id/news/prospek-trinitan-metals-pure-bisa-terangkat-pengembangan-baterai-kendaraan-listrik