Adaro Energy is optimistic to achieve a coal production target of 58-60 million tonnes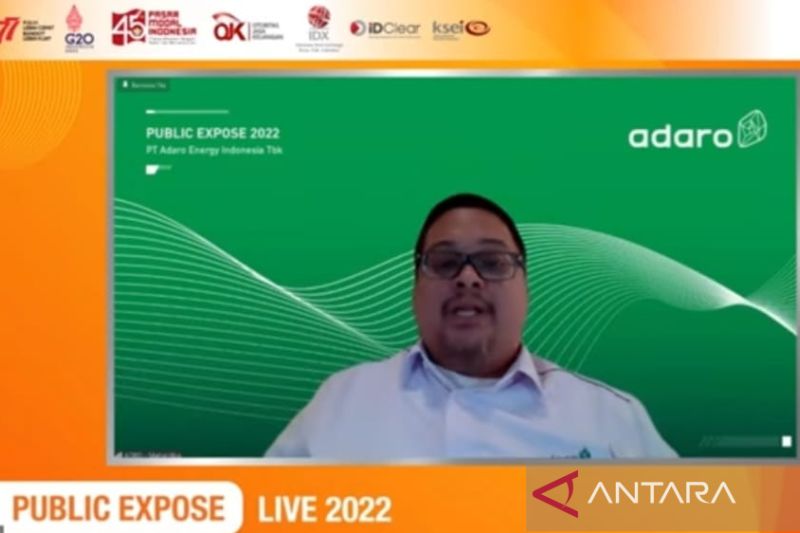 "So we are currently
on the right track
to achieve the
full year
2022 target. The fairly positive condition of coal supports our achievements and will allow us to generate strong cash to support the company's business transformation," said ADRO Corporate Secretary Mahardika Putranto in the 2022 Live Public Expose in Jakarta, Monday.Mahardika said that the production target includes metallurgical coal production from a subsidiary of PT Adaro Minerals Indonesia Tbk (ADMR) of 2.8 million tons to 3.3 million tons
Despite facing high rainfall and heavy equipment procurement problems, ADRO managed to increase production by 6 percent to 28 million tons from 26.5 million tons in the first half of 2022.
The increase in production helped increase coal sales by 7 percent to 27.5 million tons in the first half of 2022 from 25.8 million tons in the same period the previous year.
On the other hand, continued Mahardika, the company's combined strip ratio is planned to reach 4.1 times, where the achievement until the first half of this year has reached 3.6 times.
While production from the Kestrel coal mine in Australia until the first half reached 3.19 million tons, this figure is not included in the company's production guidance figure of 58 million tons to 60 million tons.
"We also always discipline costs and prudent in capital spending. This year's capital expenditure target remains at 300 to 450 million US dollars," said Mahardika.
In the first half of 2022, ADRO's operating EBITDA rose 269 percent to 2.34 billion U.S. dollars from the same period last year of 635 million U.S. dollars as prices and production rose 117 percent and 6 percent, respectively. The average selling price (ASP) in the second quarter of 2022 increased by 135 percent (yoy).
Meanwhile, the company's core profit in the first semester of 2022 reached 1.45 billion US dollars, equivalent to an increase of 338 percent (yoy) thanks to very high prices in history due to geopolitical events and operational efficiency carried out on an ongoing basis.
The first half of 2022 is considered a very conducive semester for coal prices, thus pushing ADRO's revenue to touch the highest records in the company's history.
This was triggered by a combination of various factors that occurred in a short period of time, ranging from uncertain weather which resulted in an increase in demand for the company's products, to supply scarcity that has not been resolved due to heavy equipment procurement problems and bad weather in mining areas globally. However, the biggest impact is due to geopolitical risks from Europe.
The company's revenue, EBITDA and net profit reached record highs in the first half since the company first listed on the stock exchange 14 years ago.