Antam (ANTM) and Hartadinata (HRTA) Sign Gold Production and Sales Cooperation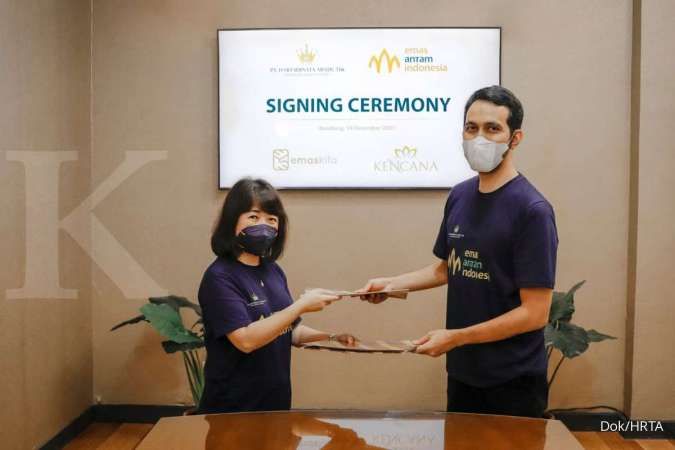 PT Emas Antam Indonesia (EAI), a subsidiary of PT Aneka Tambang Tbk (ANTM), signed a Production and Sales Cooperation Agreement for Gold Products with PT Hartadinata Abadi Tbk (HRTA).
This new cooperation agreement is a continuation of the exploration of cooperation in the production and sale of micro gold bars and jewelry for the period from July to December 2021.
Through this collaboration, EAI and Hartadinata will further develop GoldKITA pure gold bullion (Small Gold for Trusted and Safe Investment) and Kencana pure gold jewelry (Trusted and Meaningful Beauty) in the Indonesian domestic market.
GoldKITA is a precious metal (99.99%) in fractions of 0.1 grams to 100 grams which is specially designed to be accessible to all Indonesian people.Meanwhile, Kencana is the first and only gold jewelery collection with 99.99% gold content in Indonesia.
The production process of EmasKITA and Kencana is carried out at the Hartadinata Factory located in Bandung, West Java, which is directly supervised by EAI.
President Director of EAI, Bambang Wijanarko said, EAI works closely with Hartadinata to ensure that every product produced is in accordance with standards, namely using pure gold as raw material, standardizing work procedures, and controlling product quality by ensuring the accuracy of the weight of each product produced.
"In addition, EAI also provides added value for design advice and efficient andprovenoperations management practices," he said as stated in an official statement, Monday (27/12).
President Director of Hartadinata, Sandra Sunanto added, EmasKITA will also be available in a much more complete gramation, namely 0.1 grams to 100 grams.
"Our hope is that EmasKITA will complete the portfolio of gold bullion products in Indonesia as an investment tool at competitive prices and always available in the domestic market.
EmasKITA will also continue to offer authenticity security through aQR codethat is automatically connected tothewww.emaskita.idwebsite, applications on Android and IOS and is equipped withaugmented realityfeatures," he explained.
Meanwhile, Kencana gold jewelry will still present a collection of rings, bracelets, pendants and necklaces with elegant and attractive designs and can be used as a profitable investment medium.
Kencana products are targeted to be sold in domestic and international markets.
Source: https://industri.kontan.co.id/news/antam-antm-dan-hartadinata-hrta-teken-kerjasama-produksi-dan-penjualan-emas