Bayan Resources (BYAN) Sells 40 Million Tons of Coal in 2021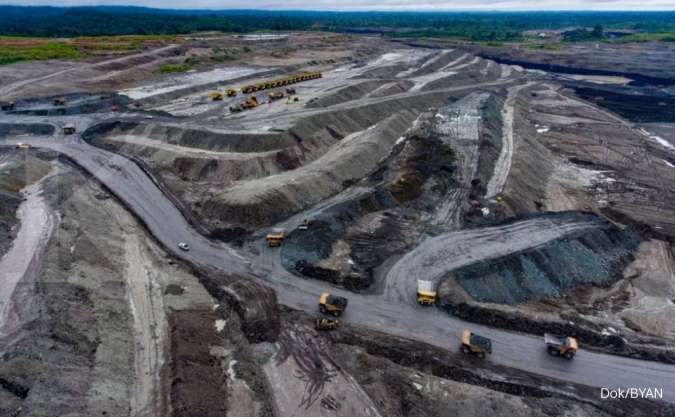 PT Bayan Resources Tbk ( BYAN ) managed to sell 40 million tons of coal throughout 2021. This number increased by 11.11% from sales volume in 2020 which was only 36 million tons.
Based on geographic segment, BYAN's sales throughout 2021 will be dominated by sales to overseas markets, namely to the Philippines by 29%. Followed by sales to China by 16%, sales to Korea by 15%, and sales to other countries by 14% of total sales.
Meanwhile, sales to the Indonesian market amounted to 12 percent, followed by sales to the Indian market at 10 percent, and sales to Bangladesh accounted for 4% of BYAN's total sales.
Last year, BYAN realized an average selling price (ASP) of US$ 71 per ton. This ASP realization jumped 86.4% from the ASP in 2020 which was only US$ 38 per ton. This year, ASP is estimated to be in the range of US$ 85 to US$ 90 per ton.
In terms of sales, BYAN targets sales to be in the range of 37 million tons to 39 million tons of coal, which is in line with this year's projected production volume.
By mid-January 2022, BYAN's committed and contracted sales had reached 36.3 million tons with an average calorific value of 4,481 GAR kcal/kg. This represents about 95% of the planned sales volume target by 2022.
Of this amount, 17% use a fixed price scheme with an average calorific value of 4,245 GAR kcal/kg at a price of US$ 50.9 per tonne. Meanwhile, 83% use the element of market price ( floating price ). Additional sales may be possible because this year's production target is quite progressive and the barge target is met.
As an illustration, the issuer led by conglomerate Dato Low Tuck Kwong posted a net profit of US $ 1.21 billion throughout 2021. This profit rose 269% on an annual basis compared to a net profit in 2020 of US $ 328.74 million.
Correspondingly, BYAN's income also increased. BYAN is known to have recorded revenues of up to US$ 2.85 billion or grew by 104.4% on an annual basis compared to the position at the end of 2020 which was only US$ 1.39 billion.
Source: https://industri.kontan.co.id/news/bayan-resources-byan-jual-40-juta-ton-batubara-di-sepanjang-2021