Demand for Nickel Ore Will Reach 250 Million Tons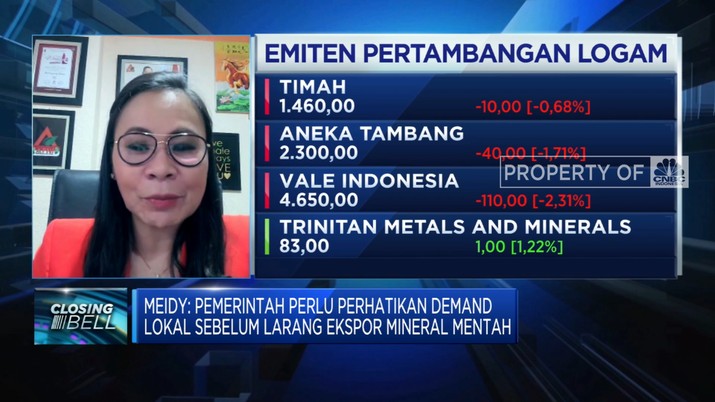 The Indonesian Nickel Miners Association (APNI) revealed that the demand for nickel ore will reach 250 million tons by 2025.
APNI Secretary Meidy Katrin Lengkey explained that based on the data he has, there are currently 27 business entities for nickel ore processing.
Meanwhile, the realization of demand in 2021 has only reached 57 million tons, or equivalent to 47.5% of the 2021 Work Plan and Budget (RKAB) target of 120 million tons.
Well, the problem is that in 2025 there may be 81 nickel ore processing business entities, both from priometallurgy and hydrometallurgy.
However, the construction of the factory will be carried out in stages.Meidy detailed, there are 27 pyrometallurgical companies, then 5 hydrometallurgical companies are under construction, and 17 business entities are still in the planning stage for pyrometallurgy and 3 for pyrometallurgical planning.
"In 2025 there will be 71 pyrometallurgical plants and 10 hydrometallurgical plants. Of the total demand, it will consume around 250 million tons of nickel ore in 2025 and above," explained Meidy to CNBC Indonesia, Tuesday (4/1/2021).
"Later in 2025, if the entire plant is actually realized, the need for 250 million tons is not a small number. We question how our reserves are prepared, how about the upstream industry," he said again.
In fact, the government plans to limit the construction of new nickel smelters.The Ministry of Energy and Mineral Resources is discussing restrictions on the construction of second-class nickel smelters, namely for ferronickel (FeNi) and Nickel Pig Iron (NPI).
Until 2024, the government targets as many as 53 smelters to operate.In detail, the smelters that will be operational in 2024 are four copper smelters, 30 nickel smelters, 11 bauxite smelters, four iron smelters, two manganese smelters, and two lead and zinc smelters.
Meanwhile, the investment needs to build 53 smelters by 2024 reach US$ 21.59 billion.With details of investment for nickel smelters of US$ 8 billion, bauxite of US$ 8.64 billion, iron of US$ 193.9 million, copper of US$ 4.69 billion, manganese of US$ 23.9 million, and lead and zinc amounting to US$ 28.8 million.
The plan to limit the new nickel smelter is said to be due to several factors, including increasing added value, securing raw materials for battery cell cathode factories, and maintaining the resilience of nickel ore reserves.
Source: https://www.cnbcindonesia.com/news/20220104171350-4-304566/fantastis-permintaan-bijih-nikel-bakal-tembus-250-juta-ton