Hasnur Internasional Shipping (HAIS) Assesses the Impact of the Coal Export Ban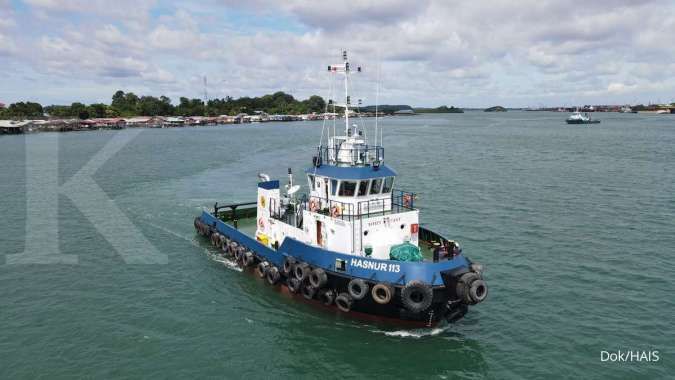 The government through the Ministry of Energy and Mineral Resources officially prohibits coal export activities from January 1, 2022 to January 31, 2022. This policy does not only affect coal companies but other sectors such as transportation services are also dragged down.
For example, PT Hasnur Internasional Shipping Tbk (HAIS), which is engaged in the transportation sector, was also affected.moreover, currently, almost 100% of the commodities transported by the company are coal.
Director of Hasnur Internasional Shipping, Soma Ariyaka said, Hasnur Internasional Shipping is still calculating the impact of the policy.
"We are evaluating the impact of the ban. At the same time, this is an incentive for us to continue to explore the transportation of other commodities," said Soma to Kontan.co.id, Monday (3/1).
This year, HAIS management is optimistic that the transportation business, especially commodities, can continue to grow, driven by the economic recovery from the Covid-19 pandemic.Therefore, his party is still evaluating the plan to increase the fleet in order to capture the existing opportunities.
Soma considered that at the same time the main challenge was the price of ships which was currently increasing significantly.
Despite seeing the business opportunities and challenges in 2022, Hasnur's management is still in the process of finalizing the projected business performance targets and capital expenditure budget this year.
For information, until September 2021, HAIS recorded a consolidated net income of Rp 296.5 billion and a net profit of Rp 29.8 billion.When compared to the achievement of the same period in 2020, HAIS revenue increased by 34%year on year(yoy) and net profit increased by 111% yoy.
Soma explained that the increase in profit was in line with the increase in cargo volume.The surge in profit is alsoinlinewith the increase in revenue in the nine-month period of 2021.
Source: https://industri.kontan.co.id/news/hasnur-internasional-shipping-hais-kaji-dampak-larangan-ekspor-batubara