Ministry of Energy and Mineral Resources will Adjust Coal Royalty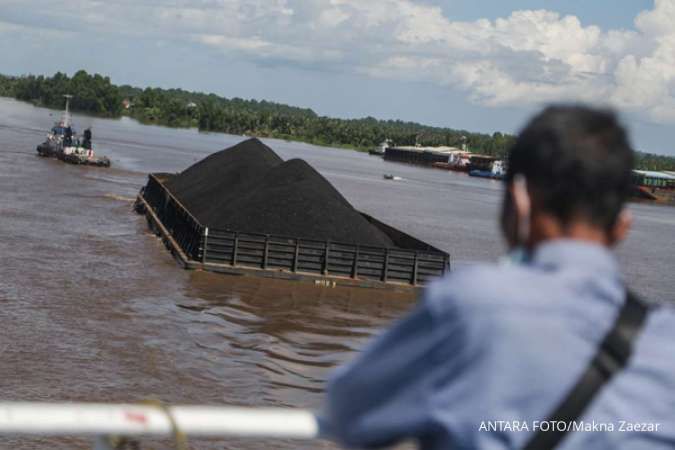 A barge transporting coal crosses the Barito River, Barito Kuala, South Kalimantan, Monday (20/6/2022). The Ministry of Energy and Mineral Resources will Make Coal Royalty Adjustments for IUPs.
The government through the Ministry of Energy and Mineral Resources (ESDM) will adjust coal royalties for companies holding Mining Business Permits (IUP).
The Director of Coal Business Guidance at the Ministry of Energy and Mineral Resources, Lana Saria, revealed that the discussion process is still ongoing.
"Regarding IUP business actors, discussions are currently underway regarding the adjustment of royalty rates," said Lana to Kontan, Monday (1/8).
However, Lana has not been able to elaborate further on the amount of adjustment and implementation time for this new tariff. What is clear is that the policy revision process is currently being carried out.
The provisions regarding coal royalties for IUPs have so far been contained in Government Regulation (PP) 81/2019. In that provision, the amount of royalty for IUP holders is set to vary 3%, 5%, and 7% based on coal calories.
Previously, coal royalty adjustments had been made for coal companies holding IUPK.
The new amount imposed is progressive in the range of 14% to 28% depending on the reference coal price (HBA). This provision is contained in Government Regulation Number 15 of 2022. 
Lana said, with the presence of this policy and the condition of high coal commodity prices, state revenues also increased.
"It has a huge impact on the realization of PNBP Minerba in 2022. It can be seen from the achievement of the PNBP target until August 1, 2022, which has reached 207.03% or Rp. 87.7 trillion," concluded Lana.
Source: https://industri.kontan.co.id/news/kementerian-esdm-akan-lakukan-penyesuaian-royalti-batubara-untuk-iup