Mitrabara (MBAP) Collaborates with UAE Renewable Energy Giant to Develop Renewable Energy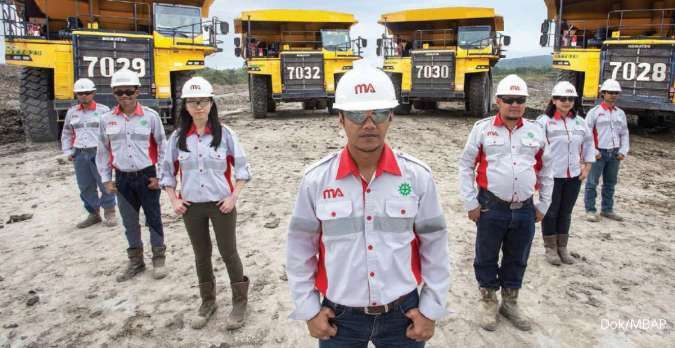 Masdar, the world's leading renewable energy company announced the formation of a 
joint venture
 (JV) with PT Mitrabara Adiperdana Tbk ( 
MBAP
 ), an Indonesian conglomerate focused on the energy sector.
The cooperation in the development and supply of renewable energy will target the commercial & industrial (C&I) segment of the renewable energy market in Indonesia which is growing very rapidly.
The collaboration between MBAP and the renewable energy giant from the United Arab Emirates (UAE) was announced today (19/1) on the sidelines of Abu Dhabi Sustainability Week (ADSW) 2022, which took place in the UAE capital this week.
Attended by Angela Soedjana, Director of Baramulti Group, and Hidefumi Kodama, General Manager, Coal and Energy Solution Department, Idemitsu Kosan Co., Ltd., both of whom are majority shareholders of Mitrabara, Khoirudin, President Director of Mitrabara, and for Masdar represented by Fawaz Al Muharrami, Acting Executive Director, Clean Energy. PT Masdar Mitra Solar Radiance, the JV company, will operate under the SOLAR RADIANCE brand.
Khoirudin, Chief Executive Officer of Mitrabara said, the increasing need for industry and companies to reduce their carbon footprint, the availability of renewable energy in a country will be one of the main drivers of many companies' investment decisions. Unfortunately, when compared to neighboring countries, Indonesia still has a lot to catch up on for the development of this sector.
"We believe that Solar Radiance will be able to accelerate the implementation of solar energy as one of the renewable energy solutions in Indonesia, moreover solar energy resources in Indonesia are actually very abundant, and there are still many aspects that can be developed. The knowledge, experience and expertise that Masdar and Mitrabara bring The JV company will present uniqueness in the renewable energy market and will ensure the best solution for our customers," Khoirudin said in his statement, Wednesday (19/1).
Fawaz Al Muharrami, Acting Executive Director, Clean Energy Masdar, said "Solar Radiance will support the energy diversification efforts of Masdar's commercial and industrial customers in Indonesia, and make a positive contribution to climate change mitigation actions.
This is because international and domestic customers in Indonesia actually need renewable energy offerings to meet their own emission reduction targets.
"We look forward to working with Mitrabara in serving this market segment and to further expand our presence in the Indonesian domestic market and the Southeast Asia region in general. We are pleased to provide our support to achieve our shared climate sustainability goals and drive net zero emissions," he said.
Meanwhile, Abdullah Salim Al Dhaheri, Ambassador of the United Arab Emirates to the Republic of Indonesia and ASEAN, said that the UAE and Indonesia have the same goals in climate change mitigation actions, diversifying the energy mix, developing a green vision, and a sustainable future. This joint venture is actually a step towards achieving that goal, and encouraging growth supported by a sustainable economy.
"Through Masdar, the UAE is ready to support Indonesia's energy transition journey, and we look forward to more fruitful collaborations in the future," he said.
Solar Radiance will help Mitrabara to support its clean energy and climate change mitigation goals.
With the Government of Indonesia targeting at least 51 percent of additional electricity capacity to come from renewable sources by 2030, the C&I segment is expected to enjoy rapid green energy growth. This new venture will also boost Mitrabara's efforts to deepen penetration in the renewable energy sector.
Masdar penetrated the market in Indonesia in 2020, by forming a JV company with PT PJBI, a subsidiary of PT PLN (Persero), to support the Cirata Floating Photovoltaic power plant development project, as the first power plant project using floating solar panels, and at the same time is the largest project in the world.
Masdar has reached an agreement in August 2021, and is targeted to start commercial operations in the 4th quarter of this year.
Mitrabara was founded in 1992, with a very long experience in the energy field, with knowledge and professionals in the energy field.
The move will also support the Government of Indonesia's plan to achieve net zero emissions by 2060 or sooner, with renewables providing up to 85 percent of the energy mix across the archipelago by that deadline.
Indonesia, the largest energy consumer in the Association of Southeast Asian Nations (ASEAN), is targeting a 41 percent reduction in greenhouse gas emissions by 2030 with international assistance.
Source: https://industri.kontan.co.id/news/mitrabara-mbap-gandeng-raksasa-renewable-energy-uea-kembangkan-energi-terbarukan?page=2