Optimistic Pit Araren Recovers, Archi is Ready to Boost Productivity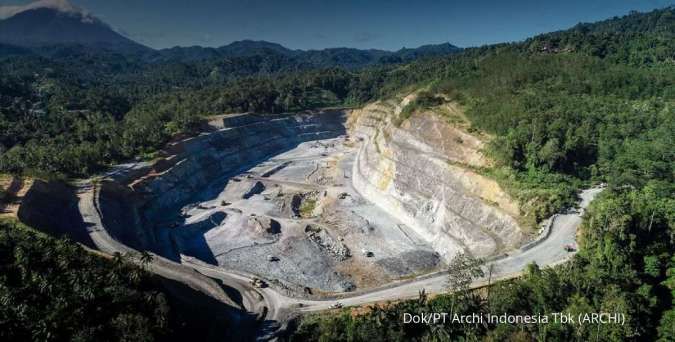 Referring to developments up to semester I-2022, PT Archi Indonesia Tbk ("Archi" or "the Company"; IDX: ARCI) is optimistic that the remediation process or recovery of the Araren pit will proceed as planned.
The pit wall or working wall of the Araren pit mine, which was damaged by high rainfall in early January 2022, has entered the remediation process, and is targeted by the Company to start production again in the fourth quarter of 2022.
Archi's Managing Director, Rudy Suhendra said that the remediation or recovery process had gone very well and according to plan. "We believe that the optimal return of pit operations will have an impact on the Company's gold production in the fourth quarter of 2022 and the following year. We are very grateful to all stakeholders, who have provided support to Archi and its Subsidiaries in this remediation or recovery process," said Rudy.
On the other hand, Rudy added that the Company has optimized mining activities in 3 (three) other pits so that operational performance can be maintained. Until the first semester of 2022, Archi has reached the gold production target of 58.3 kilo ounces.
In addition to recording revenues in the first half of 2022 of US$119.6 million and net profit of US$14.1 million, Archi has also realized capital expenditures of US$32.2 million, which is mostly used for mining infrastructure, construction of tailings storage facilities and remediation. pit Araren after the natural disaster.
Currently, Archi is also focusing on several things, including conducting feasibility studies and exploration drilling related to the development of underground mining potential, which can later help increase gold production in the future, and contribute directly to improving financial performance.
Not only that, Archi is also passionate about developing business opportunities, by cooperating with PT Ormat Geothermal Indonesia, to develop the potential of renewable resources, namely geothermal, where this exploration drilling program was carried out in July 2022.
Another thing that is being prepared by the Company through its Subsidiary, Lotus Archi, is the launch of the "Proud of Merah Putih" campaign in commemoration of the 77th Anniversary of the Independence of the Republic of Indonesia where Lotus Archi plans to present a special edition of love for the homeland gold.
PT Archi Indonesia Tbk ("Archi") is one of the largest pure-play gold mining companies in Indonesia and Southeast Asia, with more than 10 years of experience and a track record of sustainable operations at the Toka Tindung Gold Mine. which is located in North Sulawesi.
Since its establishment in 2010, Archi through its wholly-owned subsidiaries, PT Meares Soputan Mining ("PT MSM") and PT Tambang Tondano Nusajaya ("PT TTN"), has been able to produce more than 190 kilo ounces (equivalent to approximately 5 ,9 tons) of gold per year. In carrying out its business operations, Archi always upholds its commitment to best practice ESG values, as well as provides support in developing and improving the socio-economic aspects of the communities surrounding the mine.
Behind Archi's success story is a solid management team and team of technical experts with extensive experience in the mining, exploration and production of the gold and minerals industry. Archi is supported by the Rajawali Group ("Rajawali") as the controlling shareholder, an investment holding company in Indonesia with a portfolio of businesses in different industries, and a proven track record of building world-class operations and creating value for shareholders.
Source: https://pressrelease.kontan.co.id/news/optimis-pit-araren-pulih-archi-siap-genjot-produktivitas