Orica set to expand as miners dig deeper in rush for green metals
Explosives giant Orica has agreed to buy mining technology provider Axis in a deal set to boost its ability to help miners dig deeper for metals needed in the clean energy shift.
The $260 million cash acquisition of Axis Mining Technology will be funded through an underwritten $650 million capital raising, the Melbourne-based company told investors on Wednesday.
Orica is the nation's biggest supplier of commercial explosives and blasting systems to the mining, energy and construction industries. The acquisition will improve its offerings to the resources sector just as the clean-energy revolution drives greater demand for a range of Australian metals, it said.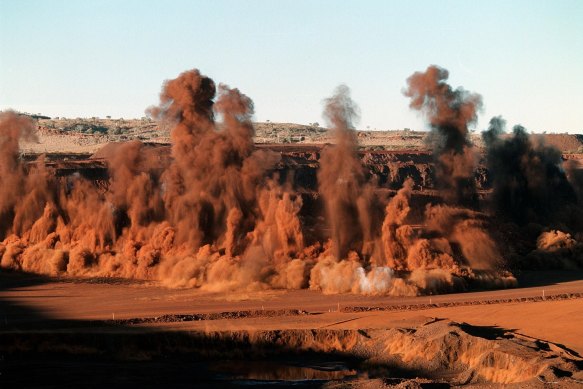 Orica chief executive Sanjeev Gandhi said Western Australia-based Axis was a leader in the design, development and manufacture of specialised geospatial tools and instruments for the mining industry.
He said the acquisition would enhance the capabilities of Orica's digital-solutions business to support the discovery of new mineral deposits required to drive the green energy transition, some of which were increasingly located deeper underground.
"We have to dig deeper, we have to go into difficult geographies, and that's where Axis comes in," Gandhi said.
"It was one of the white spots in our offering – to understand what happens below the ground before the mining value chain starts."
Australia ranks among the top-three countries for known reserves of natural resources including copper, nickel, cobalt and lithium, which are needed in increasingly vast quantities to manufacture electric car batteries and clean energy infrastructure, but are failing to keep pace with the soaring demand.
Gandhi said enabling Orica's customers to discover and access those "future-facing" commodities was vital to driving the clean energy transition.
"At the moment, there is very good demand, but supply constraints," he said.
The acquisition comes after Orica unveiled a strategy update to investors in November, saying it intended to expand digital monitoring offers, attract new customers in key Asian markets and expand its reach into "future-facing" commodities such as electric battery materials.
ASX-listed Orica, a supplier of explosives, blasting systems, mining chemicals and monitoring and digital solutions, employs 13,000 workers across its operations.
Because gas is the main ingredient in ammonium nitrate, which is used to make explosives and fertiliser, surging prices on Australia's east coast and the prospect of gas shortfalls pose significant concerns for Orica.
This week, the Australian Competition and Consumer Commission (ACCC) said a gas shortage of 56 petajoules was now expected in 2023 – about 10 per cent of domestic demand. Federal Resources Minister Madeleine King has acted on the ACCC's recommendation to take initial steps towards enacting a policy mechanism to hold back a certain volume of natural gas that cannot be exported and must be supplied to domestic buyers.
Gandhi said he was deeply concerned at the prospect of gas shortfalls emerging, and feared "further disruptions" may lie ahead as the Northern Hemisphere winter approaches ad drives greater demand for gas in heating, worsening the global crunch.
"We need to do something to support major gas users like us… we do not use gas for generating electricity, we use gas as a raw material as a feedstock to manufacture very valuable products," he said.
"I'm glad that the regulators are now aligned to our view that the gas industry in this country is broken."
Source: https://www.smh.com.au/business/companies/orica-set-to-expand-as-miners-dig-deeper-in-rush-for-green-metals-20220803-p5b6t1.html