PLN Supply 260 MVA Electricity to 2 Nickel Smelters in Sulawesi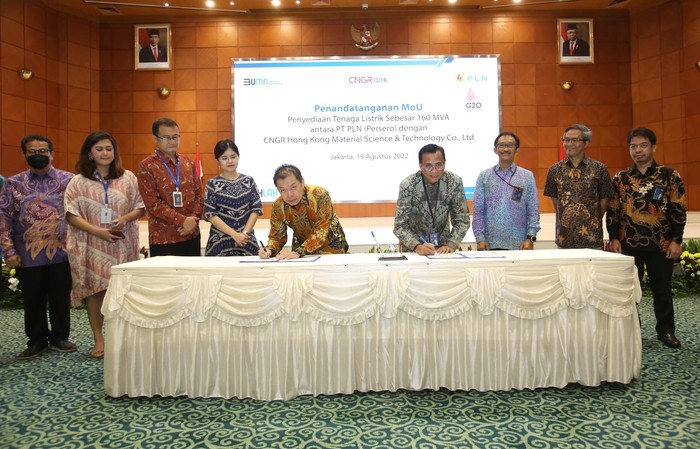 Jakarta – PT PLN (Persero) is ready to supply electricity needs to 2 mineral processing and refining plants (smelters) in Sulawesi. The total power to be supplied by PLN for both is 260 Mega Volt Ampere (MVA).
The 2 processing plants are owned by CNGR Hong Kong Material Science & Technology Co., Ltd and PT Akar Mas Smelter Indonesia. This is also stated in the memorandum of understanding (MoU) signed by PLN with the two factories.
PLN Regional Business Director for Sulawesi, Maluku, Papua and Nusa Tenggara Adi Priyanto conveyed that this memorandum of understanding was proof that the post-pandemic economic recovery was going well, especially for the Sulawesi region. With increasing industrial activity in Sulawesi, PLN is ready to supply reliable electricity according to a schedule agreed with customers in the industrial sector.
"Our task is to ensure the supply of electricity to encourage the pace of economic growth to create a multiplier effect through the readiness of electricity supply for industry and business. The signing of this MoU is a form of trust from customers who have completely handed over electricity affairs to PLN. We are committed to maintaining that trust," said Adi in a written statement, Wednesday (24/8/2022).
Adi detailed that currently the electricity system in Southern Sulawesi has a Net Installed Power of 2,469 MW, with a peak load of 1,499 MW, and a power reserve of 583 MW. With these details, he is sure that the electricity needs, especially for the industrial sector in Sulawesi, can be met by PLN.
"In the UIW Sulselbar work area, there are 5 High Voltage Customers who have entrusted their electricity services to PLN, with a total power of 402.25 MVA. In addition, there are 6 customers who have signed PJTBL (Power Purchase Agreement) and 10 customers who signed the MoU, including these two companies," explained Adi.
Adi hopes that in the future the cooperation with these various companies can bring more investors to Indonesia, especially Sulawesi, so that it can support development in the regions.
On the same occasion, Vice President of CNGR Hong Kong Material Science & Technology Co., Ltd, Dani Widjadja explained that CNGR as the largest battery precursor manufacturer in the world has a market share of up to 27 percent in 2021.
"We are aware of PLN's good reputation as an electricity provider in Indonesia that can reach remote areas. This is the signing of our second memorandum of understanding with PLN. We want to continue this collaboration and hope to align our mission to devote ourselves to the development of this country and a better life. good for mankind," said Dani.
Meanwhile, the President Director of PT Akar Mas Smelter Indonesia, Muh. Ichsan Sahabudin expressed his gratitude for the support provided by PLN. Especially for the power supply of 100 MVA which will be given to the company.
"PLN's support is very meaningful to reduce our RAB (Drafted Budget). We plan to build our own power plant and we know how much it will cost us. So we are very grateful that PLN can supply industries that need generators," he added.
The two companies engaged in nickel ore processing are targeting their factories to be operational in 2024. Therefore, PLN is ready to supply electricity on time according to the agreed schedule so as to encourage community economic growth.
Source: https://finance.detik.com/energi/d-6251858/pln-suplai-listrik-260-mva-ke-2-smelter-nikel-di-sulawesi