PTBA Planted 1.33 Million Trees in the Reclamation Area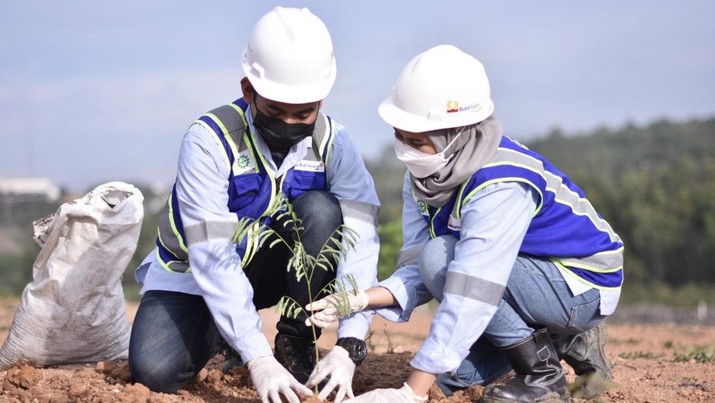 PT Bukit Asam Tbk (PTBA) has planted 1,333,350 tree trunks in the reclamation area, which covers 2,144.26 hectares (ha) until June 2022. This is done by PTBA to continue to reduce negative impacts on the environment by restore ex-mining land.
PTBA Corporate Secretary Apollonius Andwie said various types of trees were planted including Sengon, Teak, Mahogany, Eucalyptus, Acacia, Angsana, Merbau, Bamboo, Jabon, Pinus, Johar, Longkida. As for this year, PTBA targets an additional 17.19 ha of land reclamation.
"PTBA applies the principles of Good Mining Practice in conducting mining operations from start to finish. We pay attention to the sustainability aspect in every operational activity. Land reclamation is also carried out as a form of PTBA's commitment to decarbonization," he said in a written statement, Monday (1/8/2022). ).
In addition to land reclamation, PTBA also carries out various other efforts, such as running a number of programs to support decarbonization. From the operational side, the company implements Eco Mechanized Mining, which is replacing mining equipment that uses fossil fuels into electricity.
The company also implements the E-Mining Reporting System, which is a real time and online production reporting system so as to minimize conventional monitoring that uses fuel.
There is also the replacement of ozone-depleting substances (BPO) such as the use of environmentally friendly AC refrigerants and the replacement of Halon 1211 in light fire extinguishers (APAR). These programs are implemented and developed continuously in every line of the company to provide optimal results.
"The company already has a carbon management roadmap until 2050. During January-June 2022, the emission reductions that have been carried out by PTBA have reached 77 thousand tons of CO2e," added Andwie.
For information, PTBA has implemented an integrated environmental policy in the Bukit Asam Management System Policy (SMBA). Currently, the Company has ISO 14001:2015 Environmental Management certification.
This indicates that the company's operational management related to the environment is in accordance with international standards.
Source: https://industri.kontan.co.id/news/curah-hujan-menjadi-salah-satu-faktor-yang-mempengaruhi-produksi-batubara-itmg