Technological innovation in the use of coal can support the energy transition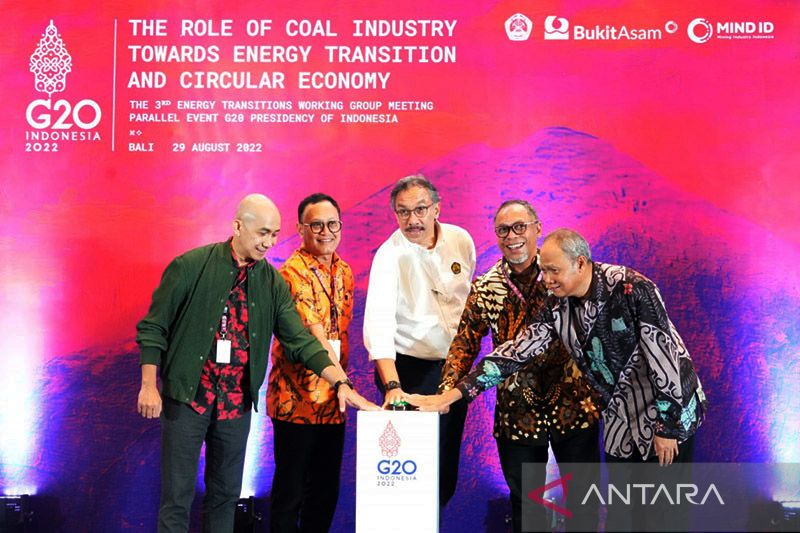 The Director General of Mineral and Coal of the Ministry of Energy and Mineral Resources, Ridwan Djamaluddin, said that technological innovation in the use of coal can support the achievement of the energy transition.
According to him, in his statement in Jakarta, Tuesday, the energy transition does not have to eliminate coal. With technological innovations, emissions from coal can be reduced, so that the net zero emission (NZE) target in 2060 can still be achieved.
"Let's think in another way. The key word is sustainable energy transition. Net zero emissionin 2060 that becomes a big scenario that we must formulate with extraordinary steps. The key is innovation," he said when opening the talkshow The 3rd Energy Transition Working Group Meeting-Parallel Event G20 Presidency of Indonesia with the theme " The Role of Coal Industry Towards Energy Transition and Circular Economy
" in Bali, Monday (29/8). In the event, which is a collaboration between the Ministry of Energy and Mineral Resources, PT Bukit Asam Tbk (PTBA), and Mining Industry Indonesia (MIND ID), Ridwan said the energy transition is one of the priority issues in the G20 Indonesia 2022 Presidency with the main focus on access, technology and funding. Regarding innovation ,
Ridwan emphasized the importance of affordability and mastery of technology. He also asked for resultstalk shows are really run so that the coal industry can support a sustainable energy transition.
"I hope today's discussion will produce something concrete, not just a discourse, but we must follow it up. I suggest making the coal industry version of the NZE, so it's not just reducing the use of coal, continue to use something else, is there another way to achieve this? NZE with a more innovative approach," said Ridwan.
On that occasion, PTBA President Director Arsal Ismail said that in line with PTBA's vision to become a world-class energy company that cares about the environment, the company is strengthening its existence and transforming into an energy company.
According to him, the transformation is not only carried out to create a sustainable business, but also supports the government's target to achieve NZE by 2060, encourage the transition process of sustainable energy, and increase the contribution of companies in supporting national energy security.
"We have implemented various business transformation strategies, such as increasing the portfolio of new renewable energy-based power plants and developing downstream coal into dimethyl ether (DME)," he said.
In terms of mining operations, Arsal added that there are two main programs run by PTBA, namely Eco Mechanized Mining and E-Mining Reporting System.
In the Eco Mechanized Mining program, the company replaces mining equipment that uses fossil fuels with electricity.
Meanwhile, in the E-Mining Reporting System program, Bukit Asam utilizes a production reporting platform in real time and online so as to minimize conventional monitoring with vehicles and reduce fuel use.
Bukit Asam is also aggressively implementing a carbon management program as an integrated program to reduce carbon emissions in the company's mining operations. Some of the carbon management efforts carried out are reclamation, decarbonization of mining operations, and carbon capture, utilization, and storage (CCUS) studies.
Related to this CCUS study, Bukit Asam is also holding a decarbonization technology competition that focuses on innovation in the field of carbon reduction and CCUS with the title "Bukit Asam Innovation Award 2022 Greenovator Indonesia".
"We hope that this competition can support the birth of innovations related to decarbonization technology in the mining sector, especially coal, to create affordable, reliable, sustainable energy," said Arsal.
Meanwhile, the Mini Innovation Workshop session was attended, including the Head of the National Research and Innovation Agency (BRIN) Mining Technology Research Center (BRIN), Anggoro Tri Mursito, leaders of mining associations, leaders of research institutes, technology startups, and youth delegates Y20.
This Mini Workshop is looking for solutions to support emission reduction, especially the importance of innovation to create affordable CCUS.
In addition, the workshop participants agreed that the use of post-mining land must consider social and economic aspects in the hope that its use is not only environmentally friendly, but also in accordance with the needs of the local community.
Meanwhile, the Executive Talkshow session is a forum to explore ideas and practices that have been implemented as a joint development step in supporting a sustainable energy transition by taking into account the circular economy.