Vale Indonesia (INCO) Contribution to State Revenue Reaches IDR 2 Trillion in 2021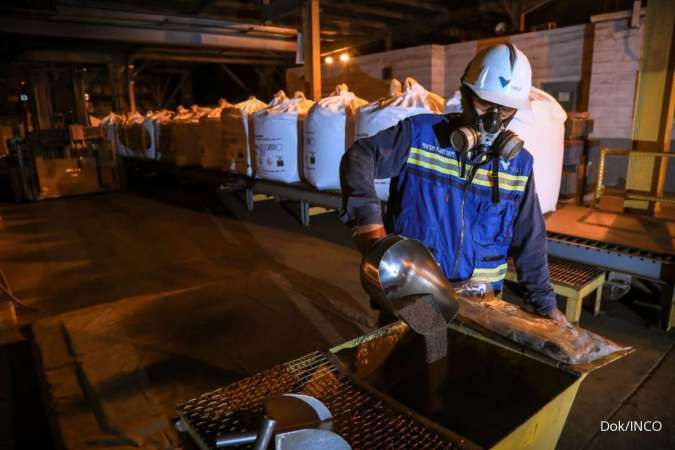 PT Vale Indonesia Tbk ( INCO ) contributed to the country through the payment of taxes and Non-Tax State Revenue (PNBP) reaching US$ 142.9 million or equivalent to Rp. 2 trillion, assuming the rupiah exchange rate was in the range of Rp. 14,000.
This was conveyed in a working meeting of Commission C DPRD South Sulawesi, regarding Vale Indonesia's contribution to the government, Monday (4/4).
Senior Manager of Tax Vale Indonesia, Chandra Yudha, said the tax contribution from regional taxes to South Sulawesi Province amounted to US$ 9.9 million and to East Luwu Regency US$ 13.6 million. 
Meanwhile, taxes and non-tax revenues are shared starting from royalties, land rent, and land and building tax (PBB) reaching US$ 22.1 million. Furthermore, taxes and non-tax revenues to the central government through PPh, PPN, Import Duties, PNBP Forestry, Ports, Communications and Information Technology, and others reached US$ 97.3 million. 
"In 2021, the company has contributed Rp. 2 trillion, of which the largest contribution is from corporate income tax as well as royalties and water levy, which are increasing in line with rising nickel prices which are the main factor in the formula for calculating these obligations," he explained in an official statement, Tuesday (5/4). 
Chandra explained further, for the tax given to South Sulawesi Province of US$ 9.9 million, the largest was contributed from the surface water tax (water levy) originating from the use of Larona River water through the use of 3 hydropower plants owned by PT Vale, namely, the Larona Hydroelectric Power Plant. , Balambano, and Karebbe with a capacity of 365 Megawatts (MW). Of this amount, around 10.7 MW was distributed to PLN for the benefit of the people of East Luwu.
"A total of 10.7 MW of electricity production is used for East Luwu, this amount is sold by PLN to the public and the proceeds from the sale are handed over to the East Luwu Regency Government," he explained.
Chandra confirmed that the amount of royalties paid this year is predicted to increase, along with the increase in nickel prices. 
Not only contributing to the country's finances, Vale Indonesia also provides benefits to the community. 
Vale Indonesia's Director of External Relations, Endra Kusuma, said that currently the workforce at INCO is 2,951 employees. According to data from February 2022, approximately 86% of these employees are people with East Luwu KTPs. This number excludes the employees working at the Vale Indonesia contractor, which reached 6,000 people.
"PT Vale is no longer purely a foreign company because 20% of its shares are owned by the government through MIND ID and also 20% owned by the public because Vale is a public company. This is further confirmed by data on Vale Indonesia employees, who are 99.7% Indonesian," he said.
Meanwhile, in terms of empowering local contractors, Vale Indonesia has approximately 400 local vendors from the goods and services sector registered according to the pre-qualification that has been carried out. 
Endra explained that Vale has a mechanism for hiring contractors. Even though there are national contractors who win, his party always asks national contractors to empower local contractors. This empowerment is not only in terms of workers but of course the expertise they have.
Meanwhile, the Head of Planning for the Regional Revenue Agency of South Sulawesi, Reza, described a number of contributions that PT Vale had made to the South Sulawesi Provincial Government. 
"PT Vale's contribution is quite large, such as for special motor vehicle taxes on behalf of PT Vale's ownership in 2020 it reached more than Rp. 2.59 billion and in 2021 it reached Rp. 2.3 billion. This amount does not include the motor vehicle tax outside Vale's name, but operates in PT Vale's operational area," he explained.
In terms of surface taxes, tax revenues in 2020 reached Rp. 89.6 billion and in 2021 it was Rp. 109.11 billion, an increase of around 21% year on year (yoy). Likewise, in terms of royalties, Vale contributed Rp. 39.5 billion in 2020 and increased in 2021 to more than Rp. 55.08 billion.
"Overall, from the total tax revenue from 2020 of IDR 136.39 billion, it will increase to IDR 169.01 billion in 2021 or grow by 23.9%," he explained.
Source: https://industri.kontan.co.id/news/kontribusi-vale-indonesia-inco-ke-penerimaan-negara-capai-rp-2-triliun-pada-2021