See the sales and production of Bukit Asam's (PTBA) coal until the third quarter of 2020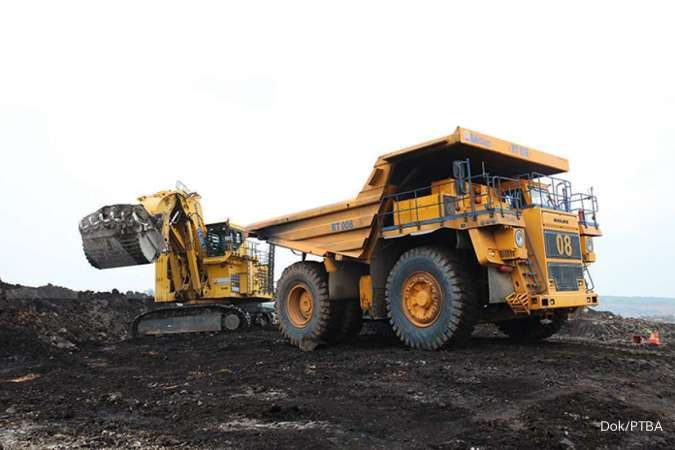 PT Bukit Asam Tbk (PTBA) reported a sales volume of 18.6 million tons until the third quarter of 2020. This realization decreased 9.7% from sales in the same period last year which reached 20.6 million tons.
Meanwhile, the coal production volume of this state-owned company was 19.4 million tons, down 10.1% compared to the realization of production in the third quarter of 2019 which reached 21.6 million tons.
President Director of Bukit Asam Arviyan Arifin said that the decline in production was in line with the RKAB approved by the Ministry of Energy and Mineral Resources and the factor of weakening coal prices.Meanwhile, PTBA's production realization until the first nine months of 2020 reflects 77% of this year's production target which has been adjusted, which is 25.1 million tons.
Bukit Asam Commercial Director Adib Ubaidillah added that the market and coal commodity prices have gradually recovered towards the end of this year.Demand for coal, both from within and outside the country, is also starting to recover.This is reflected in the improvement in a number of coal reference indices, such as the Indonesian Coal Index (ICI), the Newcastle index, and the reference coal price (HBA).
Adib admitted that PTBA's coal in the fourth quarter wassold out inaccordance with the sales target set this year."The sales plan, God willing, has been sold and achieved in volume.There is an increase in the profile of export earnings and high calorie coal, said Adib during a public expose, Friday (6/11).
Throughout this year, PTBA is targeting sales volume of up to 24.9 million tons.Adib explained that in the third quarter, Bukit Asam's coal sales to the domestic market still dominated, namely 57% of sales.
The rest is exports to the markets of India, Hong Kong and Malaysia.In the third quarter, PTBA was not too aggressive in selling coal to China.However, in the fourth quarter, Adib said there were quite large sales to China.
Citing financial reports, during the first nine months of 2020, PTBA posted revenues of IDR 12.84 trillion, a decrease of 20.9% from the previous year's realization of IDR 16.25 trillion.Of the total revenue, as much as 59% or Rp 7.58 trillion was revenue from domestic sales.
Sales to India amounted to IDR 1.56 trillion and Taiwan IDR 988.376 billion.Sales to Hong Kong reached Rp. 608.29 billion, to South Korea at Rp. 439.96 billion.
Meanwhile, the stable performance was shown by the volume of transportation, namely 17.8 million tons, or the same as last year.The transportation target installed by the Kompas100 Index constituents is 23 million tons of coal for this year.
Source:https://investasi.kontan.co.id/news/simak-penjualan-dan-produksi-batubara-bukit-asam-ptba-hingga-kuartal-ketiga-2020