Bayan Resources (BYAN) sales volume increased 45% in the first quarter of 2021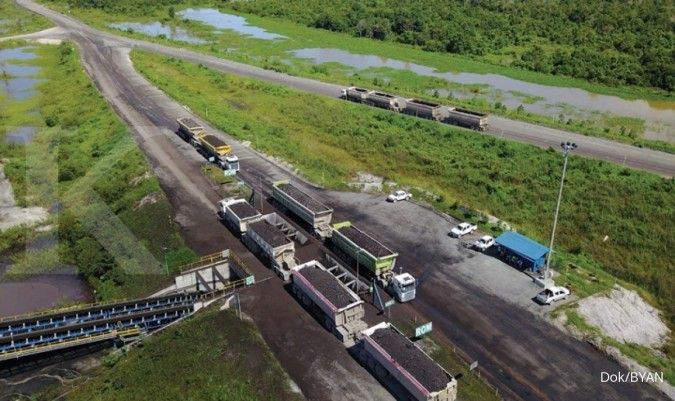 PT Bayan Resources Tbk (BYAN) recorded asolidperformance during the first quarter of 2021, with an increase in coal sales volume.
Quoting an updated investor on the official website of Bayan Resources, Thursday (6/5), BYAN recorded coal sales volume of 10.6 million metric tons (MT) in the first three months of 2021. This realization was up 45.20% from sales in the previous period. the same as the previous year which was 7.3 million tons.
This realization was also significantly higher than the budgeted volume target (7.3 million MT) and in line with the sales level in the fourth quarter of 2020 (10.4 million tonnes).
BYAN management said that sales in the first quarter were due to the support for water levels in the Senyiur River, which allowed the site in Tabang to maximize sales while taking advantage of strong market prices.
Thus, the level of inventory (inventory) group decreased from 2.9 million MT at the end of December 2020 to 1.9 million MT at the end of March 2021.
Geographically, BYAN's sales were dominated by sales to the Philippines, which reached 24% of total sales, followed by China at 22%, Korea at 17%, Malaysia at 10%, the domestic market at 9%, India at 8%, and other markets with 10%. %.
As of March 31, 2021, BYAN has secured sales commitments and contracts of 32.6 million MT for this year, with an average calorific value (CV) of 4,541 GAR kcal / kg.As many as 18.2 million MT using the market price (floating price), as much as 3.9 million MT using a fixed price (fixed price) at a price of US $ 37.7 per MT, and the rest is sales realization in the first quarter.
This sales was supported by theimprovingaverage selling price(ASP).Bayan's ASP in the first quarter was US $ 47.3 per MT, higher than the budgeted ASP (US $ 35.1 per MT) and the actual ASP in the fourth quarter of 2020 (US $ 37.8 per MT).The increase in ASP was inseparable from the increase in coal prices at the end of 2020 and continued during the first quarter of 2021.
"The company is focused on continuing to build long-term contracts with independent generation companies in Indonesia and Southeast Asia," wrote BYAN management.
The increase in coal sales volume and price also raised BYAN's revenue during the first quarter.This coal issuer owned by tycoon Low Tuck Kwong posted revenues of US $ 501.03 million in the first quarter of 2021, up 38% from the achievement in the same period in 2020 of US $ 326.28 million.
BYAN posted profit for the period attributable to owners of the parent company amounting to US $ 165.86 million, up 366% on an annual basis.
This year, BYAN decided to revise its revenue target upwards in line with the projected increase in ASP.Bayan's revenue is estimated to reach US $ 1.4 billion to US $ 1.6 billion this year.Previously, BYAN estimated that revenues would only range from US $ 1.1 billion to US $ 1.3 billion.
The company's income before interest, taxes, depreciation and amortization or EBITDA is also estimated to increase, from US $ 300 million to US $ 650 million this year.Meanwhile, the cash cost (cast cost) is estimated to be in the range of US $ 25 to US $ 27 per ton, including the cost of goods sold and royalties.
Source:https://investasi.kontan.co.id/news/volume-penjualan-bayan-resources-byan-naik-45-di-kuartal-i-2021