MIND ID liabilities reached IDR 108 trillion, the largest Freeport acquisition bond debt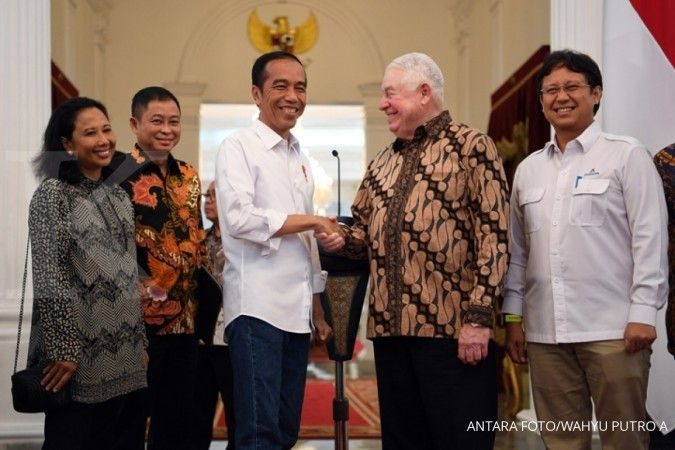 The polemic ofMind Id'sInitial Public Offering(IPO)planas a Mining SOE Holding is getting tighter.This is because Mind Id holds 51% stake in Freeport Indonesia and 20% stake in PT Vale Indonesia Tbk as a result of the divestment, which is a vital asset of the state.
Although it is not clear what the purpose of Mind Id's IPO is, what is clear is that usually the purpose of an IPO is to get fresh funds quickly.Understandably, Mind Id's financial burden in 2020 is quite heavy with liabilities of IDR 108 trillion, or an increase of 16.27% year on year (yoy) where in 2019 MIND ID's liabilities amounted to IDR 93.05 trillion.
Bond debt is also recorded as having the largest contributor to the company's libility in 2020. The bonds are used for the acquisition of Freeport and Vale.Just to remind that a liability is an obligation that must be paid by a company to another party by way of outflow of economic or financial resources owned by the company concerned.
In simple terms, liabilities, which are known in English asliability, are the responsibility, debt or financial obligation of a company that must be paid to other parties, such as other companies, individuals, financial institutions, cooperatives, or banks.
Deputy Chairman of Commission VII DPR RI Eddy Soeparno confirmed that his party needed to learn more about the MIND ID IPO plan."We want to explore and understand further the MIND ID IPO plan. Learn the allocation of IPO funds," explained Eddy to Kontan.co.id, Sunday (16/5).
Eddy continued, ideally the IPO fund would be dedicated to company development and not just to strengthen the company's capital or financial structure."Loans made for the acquisition of PTFI must be returned through thecash flow ofthe subsidiary (PTFI) and other subsidiaries," continued Eddy.
Tarumanegara University Mining and Energy Law Observer Ahmad Redi assessed that the acquisition of PT Freeport Indonesia by BUMN Holding Mining Industry, Mining Industry Indonesia (MIND ID) carried out in 2018 should strengthen the company's position.
Redi said that the acquisition should not have made MIND ID think hard about finding funding sources."Acquisition through the purchase of divestment shares should make Inalum strong, as previously said by the government, not the other way around making it even harder to find financing, including through an IPO," Redi told Kontan.co.id, Sunday (16/5).
Redi continued, IPO is indeed the simplest strategy in finding sources of corporate financing.Even so, Redi assessed that IPOs for companies related to the management of Natural Resources (SDA) have the potential to threaten SDA sovereignty and control.
Meanwhile, Deputy Minister of BUMN Pahala Mansury revealed that the MIND ID IPO plan is still in the study stage by the government."We are still studying for MIND ID, the one that already has plans is Inalum Operating," Pahala explained, Sunday (16/5).
Meanwhile, BUMN Holding for the Mining Industry, Mining Industry Indonesia (MIND ID) is recorded to have a debt maturing of US $ 500 million in November this year.President Director of MIND ID Orias Petrus Moedak said that previously the amount of debt reached US $ 1.02 billion.However, the debt was refinanced when the global bond issuance amounted to US $ 2.5 billion in May 2020.
"US $ 1.02 billion in 2021 we have already paid when we issue a global bond of US $ 2.5 billion in which US $ 500 million will be paid and another US $ 500 million (to be) paid in November 2021," explained Orias in a press conference. Virtual, not long ago.
If it is taken further, referring to MIND ID's financial statements in 2020.This mining holding has total liabilities of up to IDR 108.19 trillion or an increase of 16.27% year on year (yoy) where in 2019 MIND ID's liabilities amounted to IDR 93.05 trillion.This amount consists of short-term liabilities of IDR 26.58 trillion and long-term liabilities of IDR 81.60 trillion.
Meanwhile, of the total short-term liabilities, bond debt was the largest contributor, reaching IDR 9.09 trillion and short-term bank loans of IDR 4.87 trillion.Meanwhile, the largest contribution of total long-term liabilities came from bonds payable which reached Rp 69.12 trillion and bank loans amounting to 6.03 trillion.Meanwhile, total assets per 2020 reached IDR 180.77 trillion or an increase of 9.66% yoy.In 2019, MIND ID's total assets amounted to IDR 164.84 trillion.
Of this amount, investment in PT Freeport Indonesia dominated, reaching Rp 69.92 trillion at the end of last year, an increase from Rp 64.71 trillion a year earlier.
Meanwhile, MIND ID recorded total equity of Rp 72.58 trillion, a slight increase from the 2019 amount of Rp 71.79 trillion.Referring to Kontan's report, in November 2018, MIND ID issued global bonds worth US $ 4 billion.Of the fund, US $ 3.85 billion was used for the acquisition of PTFI, so that MIND ID's ownership became 51.2 percent of the shares.
The remaining US $ 150 million will be used for payment of transaction fees and contribution to PTFI's capital expenditure (capex) for underground mining development for 2019 and early 2020.The bonds, which are listed on the Singapore Exchange Securities, have four maturities with an average coupon rate of 5.99%.First, US $ 1 billion with a tenor of 2021. Second, US $ 1.25 billion with a tenor of 2023. Third, US $ 1 billion with a tenor of 2028. Fourth, US $ 750 million with a tenor of 2048.
Orias said that this bond was chosen because it was considered more stable for long-term financing compared to a banking syndicate whose interest rates fluctuated.Moreover, the tenor of bonds can be longer than bank loans.
In addition, he ensured that these bonds were clean, in the sense that neither assets nor shares were pledged as collateral."There are no assets or shares that are mortgaged, either Inalum shares or its subsidiaries, including PTFI shares. So this bond is carried out without collateral," explained Orias in a joint hearing with Commission VII DPR RI, late last year.
Meanwhile, in May 2020 MIND ID issued another debt of US $ 2.5 billion to be used for a number of needs.Among other things, US $ 1 billion in funds will be used to refinance the debt for the purchase of Freeport Indonesia shares which will mature in 2021 and 2023.Meanwhile, the tenor for the global bond to acquire Freeport Indonesia consists of 3 years, 5 years, 10 years and 30 years since its issuance in 2018.
"So the pressure for us to pay debts next year could be reduced, not as heavy as if we did nothing. So we bought back with a longer tenor so that there would be no cash flow pressure," explained Orias.Orias also assured that the issuance of these debt securities would not threaten the assets of mining SOEs, because nothing was guaranteed in the debt.
Source:https://industri.kontan.co.id/news/liabilitas-mind-id-capai-us-108-triliun-utang-obligasi-akuisisi-freeport-terbesar