Bukit Asam cooperates with KLHK-IPB to manage acid mine drainage using vetiver plants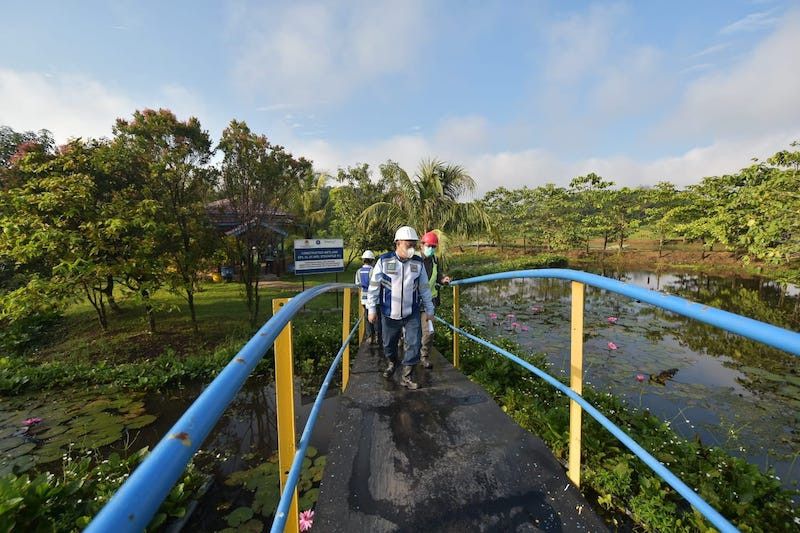 Palembang (ANTARA) – PT Bukit Asam Tbk (PTBA) manages acid mine drainage to prevent environmental pollution by cooperating with the Ministry of Environment and Forestry (KLHK) and the Bogor Agricultural Institute (IPB).
PTBA Corporate Secretary Apollonius Andwie in Palembang, Monday, said this effort is part of the application of good mining practices ( Good Mining Practice ) to minimize negative impacts.
PTBA applies the acid mine drainage method passively ( wetland ) at the Tanjung Enim Mining Unit on the West Banko Mining Business Permit (IUP), Air Laya IUP and Muara Tiga Besar IUP.
Especially for the application of wetlandsin Banko Barat and Air Laya, PTBA established a strategic partnership in the development of the constructed wetland method with IPB and KLHK.
This collaboration refers to the Regulation of the Minister of Environment and Forestry Number 5 of 2022 concerning Wastewater Treatment for Mining Businesses and or Activities Using the Artificial Wetland Method. as a pilot project for the development of this artificial wetland method.
He explained that the PTBA Environmental Management Unit runs a unique way to purify mine waste water, namely by utilizing vetiver plants which have the ability and high biomass to absorb heavy metal content in the form of Fe (Iron) and Mn (Manganese).   
"This method has been proven successful with laboratory tests from internal and external every month," he said.
The results of these tests showed that the wastewater discharged into water bodies had met environmental quality standards.
Vetiver is a land plant that is tolerant of watery conditions. By utilizing this vetiver, PTBA innovated with a constructed floating wetland, where the vetiver can still be optimal in absorbing heavy metals even though it is grown in watery conditions.
Constructed floating wetland acts as a planting medium so that vetiver roots can grow in the soil but the roots can be in acid mine water.
Vetiver plants collect heavy metals through the roots, then accumulate in the body. Therefore, vetiver is harvested periodically and then destroyed.
In addition to vetiver, Apollonius added, PTBA also utilizes water hyacinth, kiambang, rat tail, lonkida and water jasmine to reduce heavy metal levels in mine water.
The quality of mine water is continuously monitored by PTBA on a daily basis using a sparring device installed on site. Water quality parameter data is sent to the system in real time in the Cisea application belonging to PTBA, he said.
According to him, PTBA's operational management related to the environment is in accordance with international standards. This is marked by the company's ISO 14001:2015 Environmental Management certification.